Transportation

Animals

Social Activities

All Placed in Seasonal
Early American Landscapes
The Early American Art of Leo Bryant
Artist Leo Bryant has wanted all of his life to be an artist. After serving in World War II, he enrolled at the University of Tulsa, in the Fine Arts School After one year, he moved to Los Angeles, and enrolled in the Woodbury College, and earned a Degree in Commercial Art & Advertising.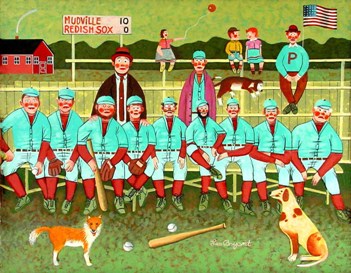 Leo, age 81, has been married to his wile Lenette for 60years. They have three daughters, six grandchildren, and 4 great grand children. Leo has a strong faith in God and has tried to honor God by serving others.
In 33 years of painting, Leo has developed a distinctive style he calls 'Early American.' Leo has exhibited in the Zantman Gallery, Bill Dodge Gallery, Cottage Gallery, and Winter's Gallery, all of which are in Carmel, California. He has exhibited in two galleries in Oregon, a gallery in Alabama, and a gallery in Long Island New York.
Leo has been published 50 times in note cards, Christmas cards, prints, calendars, and signed/numbered Limited Edition prints. He proudly shows both original art and prints in the ARTsales.com FINE ART PRINTS GALLERY. The prices reflect a sizeable discount from established art galleries, discounts from 25% to 50%. Leo is able to offer his work at these prices because rent is much less in the Internet gallery than in a gallery in Carmel, California or in New York City.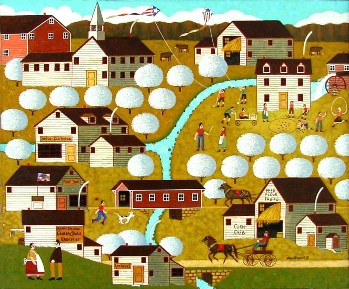 Find the piece or pieces that best suits your personality and your home. Use our shopping carts to place your orders or send a check or money order and we will ship it, prepaid, anywhere in the Continental United States, additional freight must be added to destinations outside of the Continental U.S.
Leo's original art is painted in acrylic. It has the endurance of oil, but more brilliant colors. The original paintings are smartly framed, ready for hanging.
His signed/numbered Limited Edition prints are printed on executive card stock, from the best manufacturers. A Story of the painting accompanies each print.
page> 1 / 2 / 3 / 4 / 5 / 6
To purchqace these images visit Leo's shopping cart