Fine Art Prints Signed and Numbered By Oleg Stavrowsky


Oleg Stavrowsky is a realist painter of the contemporary and the historic West. He is one of the most recognizable of western painters today because of his unique painting style, Oleg's paintings carry his personal signature with the underpinning of great draftsmanship, broad brush strokes, dynamic colors and pushing the envelope of illustrator's techniques.
Stavrowsky is a rich and varied story teller in his illustrations which allows the art collector to emotionally and intellectually participate in the viewing of his canvases. Oleg is truly appreciated by his fellow artists for his pure talent as well as his painterly techniques.
Born in Harlem, New York, in 1927 to Russian Czech parents. His interest in western art began in high school during World War II. Oleg was drafted into the Armed Forces in 1945, and honorably discharged as a staff sergeant in 1949. Oleg's career as an artist had to wait until he was past thirty to get it's first real boost. Stavrowsky's first job as an artist was with McDonnell-Douglas Aircraft in St. Louis as a technical illustrator. He had moved up to senior artist before deciding to take the plunge into free-lance illustration. Then his career expanded to fashion illustration and other types of commercial art. After fifteen years of commercial illustration he discovered western art during a visit to the Cowboy Hall of Fame in Oklahoma City, in 1973.
Stavrowsky closed down his commercial accounts moved to Sante Fe New Mexico and has focused his attention on painting contemporary and historical western art ever since.
Stavrowsky exhibits in a number of shows each year and has won the Charlie Russell Show Award for the Best of Show in Painting , in Great Falls Montana.
Stavrowsky says of himself:
"Very few people know me personally and I have heard that I don't really exist, that I am black (because I was born in Harlem), that I am from the 'old country,' (because of my name), and that I don't speak English. Of course none of it is true. I got through two years of high school, was drafted into the Armed Forces in 1945, and got honorably discharged as a staff sergeant in 1949. I fooled around with ten thousand incidental jobs and finally when I was thirty decided I liked graphics.
"I got a pretty good job as a technical illustrator and I was really cooking. Then I got interested in fashion drawing and got into free-lance art. My only teacher was a book, but I had a sold reputation as a hot dog. I was in Oklahoma City, about ten years ago, decided to see what was in the Hall of Fame, and made up my mind I'd like to try that. I guess we all like Cowboys and Indians. It was pretty good right from the start and I've been at it ever since. One big factor in my life is jazz. When I paint, I am listening to music. Sixty-four bars of good saxophone is like four square inches of good brush licks on a canvas. Western painting is my life, my joy, my income, my everything."
Resource for Stavrowsky's personal quote:

Contemporary Western Artists, by Peggy and Harold Samuels 1982, Judd's Inc., Washington, D.C.
We are please to be able to offer you his framed prints.
---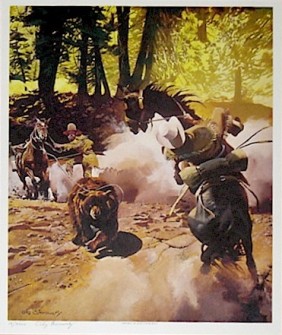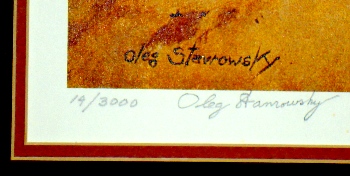 Framed fine art prints by Oleg Stavrowsky