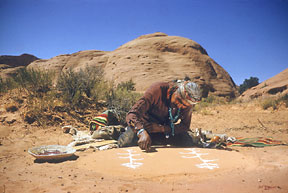 Earl Waggoner (1916-1990) took these photographs of Navajo Indians culture in 1958 on the Navajo Indian reservation near Monument Valley in the Four Corners area. Like the prints of Edward S. Curtis and Josef Muench these historically important photographs were taken with the consent and permission of the people being photographed. It is part of a collection of photographs representing Earl's work being archived at the University of California, Berkeley in the Bancroft Library. These images are a poignant slice of the Navajo Nation's history.
Because of his love of the Navajo Indians, and their respect for him, Earl was invited to photograph ceremonies and situations seldom photographed. His attention to detail, superior photographic technique, and artistic nature reveal not only a love of his subject but also an extraordinary sense of composition, light and a unique ability to capture the moment. Perhaps the most dramatic series is of a healing ceremony where a young girl, having been kicked in the head by a goat and experiencing bad dreams, is healed by two shaman or "singers". The singers then drew a sand painting and finally entered a sweat lodge to pray and complete the ceremony. The content and composition of these historic photographs about Navajo Indians culture are quite rare.
The "Navajo Life in the 1950's" Collection of Giclee fine art prints are printed on museum quality acid free paper and canvas with archival quality water-based organic inks that provide an extraordinarily wide color gamut. The prints are then coated with a UV light retardant and light stabilizing post-coatings to prevent fading. The precision printing process of the Giclee method results in museum quality prints guaranteed to last 100 years or more. For pricing and availability, contact us by E-mail. The "Navajo Life in the 1950's" Collection Images of the Navajo Nation is comprised of 140 slide images constituting a unique historic archive of the Navajo Indians unmatched in American History.
The images below are immediately available for reproduction as Giclee fine art prints. Click an image to see a larger view.
---