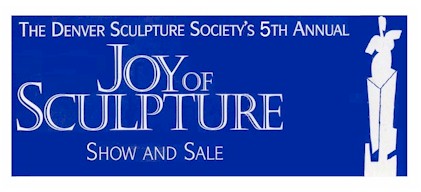 Fine Art Sculpture in Bronze, Terracotta,
Wood, Stone and Mixed Media
---
Inclusive Dates
October ,11-13 2002
Friday: 5:00PM-9:00 PM
Saturday: 10:00AM-4:30PM
Sunday: 12:00 Noon-4:30 PM
For information Call: (720) 956-0337
---
Held at the Colorado Historical Museum
1300 Broadway, Denver Co.
The Denver Sculpture Society's 5th annual invitational Exhibit,
"Joy Of Sculpture"
Show and Sale
---
By Frank Yantorno
Welcome to the web page introducing you to the artists participating in the upcoming Exhibit and Sale by the Denver Sculpture Society.
By Nancy DeCamillis
---
The year 2002 marks the fifth year for this event.
Art is truly an autocratic process of self growth with the artist struggling against and with their inner demons to bring forth the artistic vision within their own spirits, hearts and minds.
By Barbara Walker
How many times have you heard the expression? "Art is a like a cruel lover never to be satisfied only bringing to your mind criticism of your best efforts."
by Donna Malpiede McNulty
This metaphor is the product of trying to describe the artistic struggle because however deeply an artist is moved to create an art work inevitably it falls short of the initial vision leaving a gap between inspiration and execution.
By Phylis Porterfield
This inner reality for the artist dictates that Art is truly for the enjoyment and pleasure of the audience and the Denver Sculpture Society's vision is to bring the best of those who have struggled with notable successes against their personal demons to bring forth a unique and individual artistic vision.
By Tom Ware
The artists featured have been selected based on their individuality we at the celebrate their differences each is bringing a unique set of personal experiences and giving their experiences expression through their art.
By Cloyd Barnes
The Denver Sculpture Society encourages individual expression and as an example some of our artists have depicted the horse in very different moods and styles. Each with their distinctive form of expression, viva la difference!!
By Wayne Salge
The evolution of horse into its modern counterpart has been called the ultimate conspiracy of man and God in the creation. The sculptures depicting the horse give expression to the admiration for the horse and fulfillment of this age old relationship.

By Jan Van Ek
Some of our artists are more intimately associated with nature where man's selective breeding has not held sway over the development of the animal. Many of you can be refreshed with by the reminder of natures shear beauty.
By Chester Comstock
The pure power of man's spirit has not been neglected and will have ample expression through the magic and artistry of our talented group of sculptors.

By James LaCasse
Within the exhibit there are many expressive reminders of the fact that within our human experience we are the products of both nature and nurture.
By Andi Mascarenas
By Shirley Laree Olson
You are invited to come and celebrate the postive values of many cultures and the beauty of their expression through the Joy of Sculture
By Judith Scott
---
The Denver Sculpture Society's 5th annual Exhibit,
Show and Sale "Joy of Sculpture" Participating Artists: