From a Collection of incomparable sports art By Raelee Frazier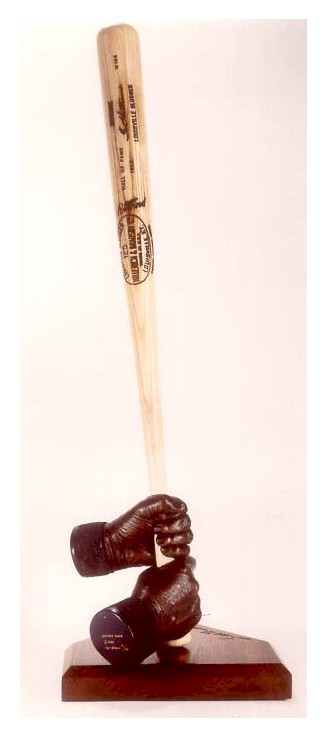 Hitter's Hands "Ted Williams"
This sculpture is available for immediate
delivery from Highland Studio


We Accept : Visa, MasterCard, American Express
This sculpture was produced as a limited edition of 36 Pieces, 16 of which have been sold. The current price is $12,500.00
for more information call Raelee at her studio (720) 270 2209
This sculpture was featured as part of the Memorial services for the Baseball Hall of Fame great hitter Ted Williams hosted by the Boston Red Sox at Fenway Park July, 22nd 2002
---
Daytime services: Gates Opened 9:00 AM and Closed 3:00PM
Evening services: Gates Opened: 5:00 PM 2002 at 6:30 Political Dignitaries, Team Mates, Family and Friends shared stories of their experiences with Ted Williams.
---
This sculpture was produced as a limited edition of 36 Pieces, 16 of which have been sold. The current price is $12,500.00 for more information please call (303) 861-7855
---
Welcome to the Highlands Studio Web Pages dedicated to sports hero's from the last sixty years
About the context for the art
Ted Williams may have been the greatest hitter of all-time. Hitting a baseball was what Ted did best. He developed with a determined self will every tool a good hitter could want. He was capable of hitting both for power and average, which is a remarkable accomplishment. Very few hitters can hit both for power and average at the same time. Power hitters are prone to strike out often, and contact hitters, who hit for average, do not often hit over 10 home runs a season. This is why the combination of hitting with power while maintaining a high percentage average is such a remarkable achievement.
Only a few other hitters such as Ruth, Hornsby and Dimaggio were capable of applying both skills at the same time. Ted Williams worked diligently at his skills and displayed an understanding of the art of hitting that few players have matched to this day. Ted through his methodical analysis and approach to the art of hitting a baseball has published one of the best books on hitting that is in the market, "The Science of Hitting" by Ted Williams is considered one of the best coaching tools for hitters that has been published. Ted's biography, "My Turn at Bat", which is another exceptional book on the life of a baseball player.
Ted Williams was noted for the work ethic he applied to putting a bat on a baseball. Ted was blessed with great physical attributes, incredible eyesight, the lightning reflexes, the perfect timing, the powerful forearms and the unwavering patience and selectivity for a good pitch were scientifically programmed components of a Boston Red Sox hitting machine that dominated the American League pitchers from 1939 to 1960.
If Williams isn't the greatest pure hitter of all-time, he certainly was the best hitter of his era. Ted was a left handed swinger, his impeccable timing and split-second swing would whip out another line drive. Always a perfectionist, Williams refused to swing at bad pitches. His discipline at the plate that made him the most-walked hitter in history behind Babe Ruth.
But the self-discipline that so defined Williams the hitter often was lost on Williams the man. Quick-tempered, arrogant, opinionated and independent, the sensitive Williams, a sometimes-erratic defender in left field, fought career-long battles against critical sportswriters and fickle Boston fans. His feud with the media might have cost him three Most Valuable Player awards -- in 1941 when he batted .406 but lost out to Joe DiMaggio; in 1942 when he won a Triple Crown but lost out to Joe Gordon; and in 1947 when he won a second Triple Crown and lost again to DiMaggio.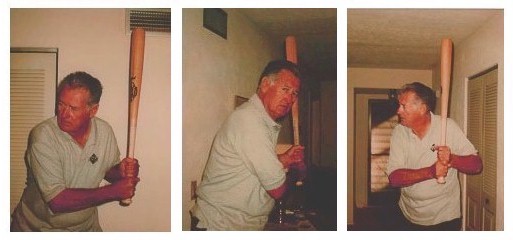 The bottom line of Ted William's career includes two MVPs, six A.L. batting titles, 2,654 career hits, a lifetime average of .344 , 19 All-Star Game selections and 521 home runs -- the most remarkable part of these numbers is that they could have been higher if he had not lost four seasons during his prime to military duty during World War II and the Korean War.
Williams hit .406 in 1941 the highest average of any Baseball Hall of Fame inductee. He won the Triple Crown in 1942 and 1947. Remarkably, he didn't win the MVP in any of those three seasons. The real distinction of this feat was that he spent the years in between in service to his country as a combat pilot during World War II
One of Williams' greatest attributes was his batting eye, as he would rarely swing at a pitch out of the strike zone. In baseball history, only Babe Ruth walked more than Ted Williams.
Only once in his career did Williams hit below .316 and he retired with a career average of .344. He hit for power as well as average and his bat had a great deal of pop hitting 521 career home runs.
No one has reached the .400 plateau since Williams' .406 mark in the 1941 season.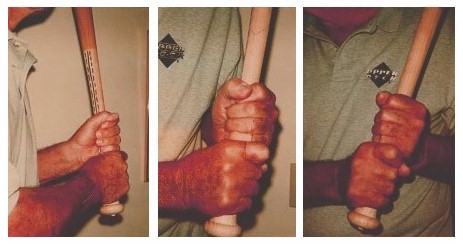 ---

---