Some people, like fine wine, age well and with aging only become better such is the legacy of the gentleman Byron "Mex" Johnson.
Byron was a fine athlete as a boy growing up in Little Rock Arkansas and even as a boy he realized that education was the key to personal advancement and the building of personal character. In Little Rock Byron went to Stephens Elementary and Paul Laurence Dunbar High school. After graduation from high school Byron went on to Wiley College in Marshall Texas and received his university degree in education with a minor in math.
After graduating from college he went back to Little Rock to teach biology and coach the Paul Laurence Dunbar High School's football team. In 1936 he was ask to play baseball for the Kansas City Monarchs. At first he decided to stay at his teaching position rather than to play baseball. In 1937 he was ask again and after conferring with his family decided to play for the Monarchs. By coincidence Byron's background in biology had made the Monarch Butterfly one of his favorite animals, it's epic journey the round trip from Canada to Mexico to winter for the season is the longest migration of its kind in nature for any animal of its size.
Although Byron had disciplined himself to seek out an education as his first priority, fate had another role for him to play which put him in the spotlight of Negro League Baseball playing with the likes of Satchel Page, Turkey Stearns, Buck O'Neil and Ted "Double Duty" Radcliffe.
It may be difficult for some young people to understand what an honor it was to be ask to be a Kansas City Monarch in 1937. What it means is that although Byron was not seeking the limelight for what he was doing, someone had taken notice of his abilities as an athlete and had sought him out personally to join the club and after a refusal on the first attempt had persisted long enough to convince him to play for the team.
The Kansas City Monarchs were black baseball's glamour franchise and when playing for the Monarchs Byron Johnson literally rubbed elbows with the best of the Negro Leagues players and was selected himself as a member of the Negro League East-West All-Star team in 1938.
Byron played for four years with the Negro Leagues Kansas City Monarchs and was on the road team the Monarchs called the Satchel Paige All Stars from 1939-1940.
Upon his arrival at the Monarchs Byron was mentored in the game of baseball by Joe "Bullet" Rogan. Byron credits Rogan as being the one who taught him to hit a curve ball. Another close friend during his time with the monarchs was his room mate Hilton Smith whom he credits with influencing him "to marry my childhood friend and sweetheart Christine."
Byron recounts his experiences in the Negro league being particularly proud of his friendship with "the great Turkey Stearns" considered to be the best hitter of all time who recorded an incredible average of .430 in his 1929 season, an average never met over the course of an entire season by any other hitter in the history of the game. During the 1938 all star game Turkey promised if Byron would produce a hit for his team he would give him one of his personal bats as a keep sake. Byron responded by producing a hit qualifying himself to have one of Turkey's personal bats. This bat became one of his favorite personal possessions and the bat is now on display at the Negro League Hall of Fame made a gift to the museum by Byron as a memento of the game.
During the course of his career Byron Johnson would become known as one of the best defensive players of his time and tour with the first Kansas City Monarchs road team and with the great Satchel Page on his all star team.
As a witness to his defensive skills, Ted "Double Duty" Radcliffe, who was one of the best defensive players of the game, gave Byron the nick names "The Arm" and "The Vacuum Cleaner" as testimony to his defensive abilities.
Byron Johnson had the honor of being one of Satchel Paiges infielders at shortstop. He had the best view in the house as history was being made by the Kansas City Monarchs and Satchel Paige's All star teams in 1939-1940. Satchel was known to send all of his outfielders down to the dugout as he faced the league's biggest power hitters, and struck them out effortlessly. Such antics were typical of Satchel's play, and were what drew people to the games in which he played. He had returned to the Negro Leagues from Mexico in 1939 when he joined the Kansas City Monarchs. Satchel led the Monarchs to numerous League pennants, and he himself enjoyed great success in the leagues All-Star games.
Still having years of ability left which he could have used to play baseball, Byron made a personal decision to leave baseball and returned to Little Rock Arkansas where he continued his career as an educator. Byron was proactive in the civil rights movement making numerous contributions to the advancement of equal rights.
Byron lived in Denver Colorado with his daughter and until his passing on Sept, 24, 2005 e still lights up when telling stories about his Negro League experiences.
Byron never lost touch with the value of family and home and now has four great grand children, two grand children, his son, who has passed on, and his daughter. Byron remained married to his childhood sweetheart for 60 years before she passed away in 1998.
Byron was recently honored in Canada by being inducted along with Satchel Page into the Saskatchewan Baseball Hall of Fame in Battleford Saskatchewan , being one of the only two Negro League players to be so honored.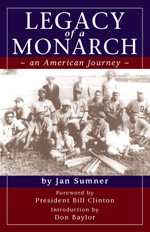 Follow the link in the picture to purchase this book
The life story of Byron Johnson is released in a book Authored by Jan Sumner, the book is titled "The Legacy of a Monarch". Publisher JADAN Publishing, Denver Co. (303) 300-2866, P.O. Box 22198 Denver Co. 80222.

Website address http://www.jadanpublishingcompanyllc.com
Byrons legacy has been established and affirmed by the love and friendship of those he played baseball with and there is no doubt about his prowess as a player and friend both on the field and off.
---
This is what Byron would say about himself:


"Although we had hard times I drew my strength from my family and friends and played baseball for the love of the game."
---