You have to love this guy! Ralph Kiner is the stuff that baseball legends are made out of. Ralph Kiner was elected to the Baseball Hall Of Fame because of his extrodinary hitting abilities. One of the characteristics that makes Ralph Kiner's Baseball career unique is that he produced his hitting exploits playing for the Pittsburgh Pirates during the time that Pittsburgh was a city where most men made their living in the smoking caldrons and fire pits at the heart of the steel and iron industries. Kiner's fans were the factory workers were pounding out Americas post World War II economic expansion.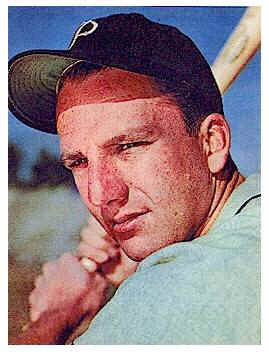 Kiner became a baseball hero of the blue-collar workers in Pittsburgh during the late 1940's and early 1950's at a time when Pittsburgh was primarily a city of steel mills and iron foundries.
Kiner gained a reputation for booming baseballs over the outfield fences. As a result he drew these hardworking men of the steel industry into the ballpark on weekends in anticipation of seeing the bases cleared behind the power hitting of this working class hitter. Part of Kiner's true legacy is being a hero to the tough as nails generation that had defeated the Axis powers during WWII.
Because of his personal popularity with the Pirate's fans it can be said that ball games for the Pittsburgh Pirates were never over until Kiner had his final at bat. Kiner's reputation for producing homeruns was such that the fans, win or loose, would wait to file out of the stadium until Kiner's last at bat. His reputation in Pittsburgh was such that many fans came to the games just see their homerun hitter. The fans knew that Kiner's style of power hitting meant that that if he made clean contact with the ball it was going out of the park. For many fans these exploits were what drew them to the ballpark.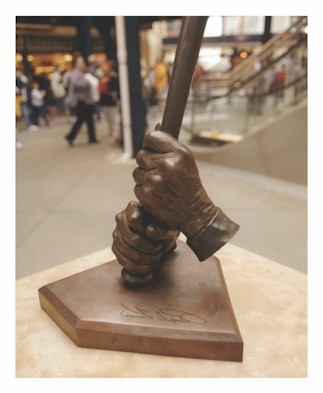 Kiner's ability to apply pure power to the baseball should never be underestimated. He hit a home run every 14.1 at-bats. In his own time he had the second best homerun average behind the legendary Babe Ruth and only two hitters in the history of baseball have ever produced a better percentage of homeruns to times at bat than Ralph Kiner. The only two men to produce a better homerun average were Babe Ruth and Mark Maguire. This fact proves that the record for power hitting that Kiner produced during his career has truly stood the test of time.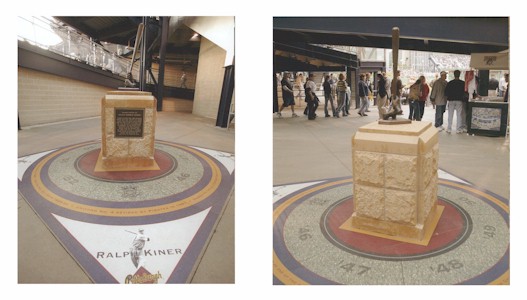 We are proud to announce that Hitter's hands and artist Raelee Frazier have produced a masterpiece of sports memorabilia where you can see the strength in the hands that created Kiner's enviable hitting records.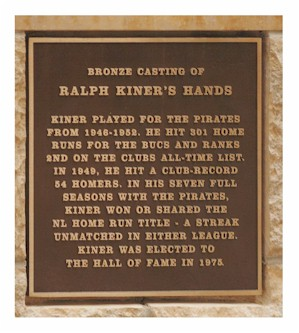 The art is a bronze sculpture produced from a life casting molded from Kiner's own hands which are faithfully reproduced to the finest detail. The hands are griping a Louisville Slugger autographed with Kiner's own signature. It is noteworthy that Kiner selected a stick of timber that dwarfs the bats used by most modern hitters.
About the Art quoting Ralph Kiner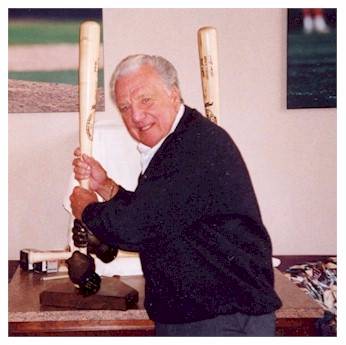 Ralph Kiner Poses with His Bronze Hands
"To my Knowledge my hand position on the bat was different from who ever played Major League Baseball. This bronze accurately shows this unusual hand position. Can you tell what makes it different? It is that the right thumb is up"
With the help and encouragement of Di Ann Kiner, Ralph's wife of forty years, The Pittsburgh Pirates Organization have enshrined the legend of Ralph Kiner with the installation of this art at the new Pirates Stadium at the PNC Park at North Shore on March 15 th 2003. This sculpture will become a permanent reminder to Pittsburgh's citizens and baseball fans of one of the Pirates greatest Baseball Hall of Fame legacies.
Notable Notes about Ralph Kiner:
---
Ralph Kiner Played for the Pittsburgh Pirates from 1945-1953 and was inducted into the Baseball Hall of Fame in 1975
In 1962 Ralph became one of the New York Mets broadcasting team and has distinguished himself by performing as a color and historic commentator for over forty years. been active an that capacity ever since. During his broadcasting career he has become as famous as Casey Stengel and Yogi Berra for creating malthrops and euphemisms relating to baseball. Many Mets fans that did not even see Kiner play baseball will tell you how enjoyable it has been to hear his commentaries and stories about the game throughout the years.
Ted Williams baseball's greatest pure hitter often stated that Ralph Kiner did not get the credit he deserved for being a power hitter, however Ted himself was responsible for giving Ralph the honor of being enshrined as part of Ted Williams Hitter Hall of Fame in Hernando Florida.
Being made of the right stuff Ralph Kiner has always performed to the highest standards in whatever task he has undertaken and in the end analysis ends up competing with and being compared to the best and brightest in baseball.
For collector's of Baseball Memorabilia, do no miss the opportunity to add Hitter's Hands set of hands from this "Legend of Baseball" to your collection by contacting Hitter's Hands.
To inquire about art please E-mail: