It is my opinion that Michael Schnieder is an artist to watch.
I first met Michael Schnieder when he brought his sculptures to the foundry where I had my studio to seek advice and instruction on the patination and colorization of the surfaces.
I was immediately impressed with the intensity of his commitment to bring his earlier life experience in dance into new expression in his life. His sculptures had a genuine quality that can only be imparted from real life experience in the subject which is being illustrated.
Michael's work has a directness that comes from the intensity of his personal vision. He is intent on the process of discovery and his work is direct and to the point. His style is in the tradition of some of the great artists of the past and particularly has the flavor and directness of Giacometti and reflects the obsession with pure line as the most important element of art.



"In painting, as in sculpture,
only the drawing is important."
"Analyzing discourages my hand."


Michael's ability to use a single line to define his forms is a powerful tool which he is currently developing. I admire his choice of the single line element as the expression for his vision. This methodology is at the root of creatively defining art and is an extremely adaptable technique for imaging any form that needs to be defined spatially.
A single line is all that is required
to define any geometry in space



There is a varied degree of success by Michael in developing his work however I receive an immediate lift in my spirit when viewing his art. This response is at the gut level and came instinctively and subconsciously. In my many years of viewing art I have had less pleasing responses to some major artists works. The fact that the pleasure was immediate and from my soul leads me to believe Michael's art is a pure expression of his own pleasure in participating in dance. He has already been successful as an artist in that respect and the future will tell us more of the clarity of Michael's creative vision.




August Rodin used line and contour
as his two strongest design elements

I have seen Michael's drawings and paintings and Michael is a talented illustrator in the pure traditional sense. His choice of methodology and approach to his sculpture represents a mature artistic choice and commitment to an artistic ideal that has the strongest precedence in art history.
For the art collector it is important to note that because of the way in which his sculptures are developed all of Michael's work are strictly one of a kind originals.
Chester Comstock
Publisher and Editor
Artsales.com



"The Pirouette"

Dimensions !5" H X 8" W X 6" D

What Michael says about his own work.
I spent twenty three years of my life in the study and performance of classical ballet. After retiring from the stage the transposing of the library of memories into visual imagery seemed a natural progression.
Although I have made my dancers for many years the economic realities of life has kept me from pursuing the art work as a full time occupation until recently.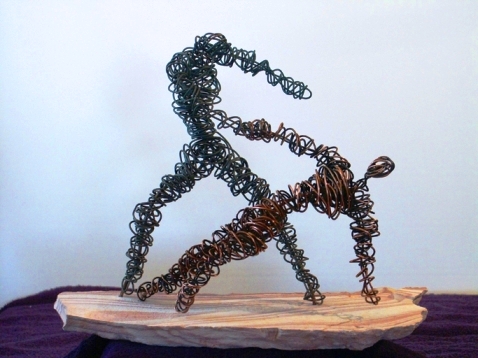 "The Lift"
Dimensions 15" H X 8" W X 6" D
The intent of this series of pieces is to the viewer with the expectation that hat any moment my dancers will progress to the next dance movement. Although the medium for my expression does not allow for the replication of the human form in exactness, all positions and movements are true to the French/Russian schools of dance.
Sit back and put on your favorite music and let my dancers entertain you.


"At the Cou de Pied"

Dimensions 20" H X 10"W X 6" D
---

Michael is a member of The Littleton Art Guild
is represented by Hannum Studio of Littleton.
Michael's sculptures will be on display
at Artistic Adventure
151 West Mineral Ave.
April 1-30
reception held:
Friday April 1st 6 Pm - 9 Pm

Demonstration and Discussion of the work :
April 23 rd 2 Pm - 4 Pm
For more information Contact:



Michael Schnieder
8385 Newland Court
Littleton Co.
(303) 478-7392
motzartmike@comcast.net